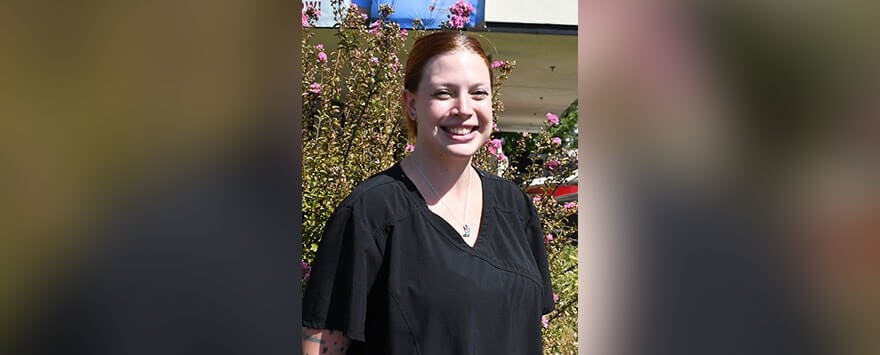 Sutter County Superintendent of Schools is delighted to welcome Gyna Schuler to our team as a Medical Assistant Instructor at our Sutter County Career Training Center. Born and raised in Sacramento, Gyna moved to Yuba City in June in order to serve in our Medical Assisting program.
Gyna was valedictorian of her medical assisting class at Kaplan College in 2015. Since then, she has served as the lead of three separate urgent care facilities, including UC Davis Health. Because she enjoyed working with externs in her position, she decided she would like to be a medical assistant instructor. She enjoys teaching and spending time with her students.
"I bring bubbly positivity to my teaching environment," Gyna said. "I like to keep my classroom stress-free. Students will learn and have fun doing so."
Gyna decided to become a medical assistant because she was the caregiver for her beloved grandmother during the last months of her life. Her grandmother was her "Go-to-Gal." Before she passed, she told Gyna that she would return to her in the form of a butterfly. After her grandmother was taken to the funeral home, a white butterfly flew around Gyna. Gyna thinks it was white because that is the color that signifies lung cancer.
Gyna and her long-term partner, Travis, have three children. As a family, they enjoy going to the park, jumping on the trampoline, being outdoors and cuddling under fuzzy blankets while watching Netflix. Gyna loves butterflies, glitter and mint chocolate chip ice cream.
"The transition of Cambridge Jr College to Sutter County Career Training Center will open more opportunities for students," Gyna said. "There will be more room for growth not only for students, but for employees as well."
Is a Rewarding Career as a Medical Assistant Right For You? Get More Info…
If you're interested in learning more about careers in Medical Assisting and exploring whether Sutter County Career Training Center is right for you, fill out the form on this page for more information.
For immediate questions, give us a call at 530-674-9199