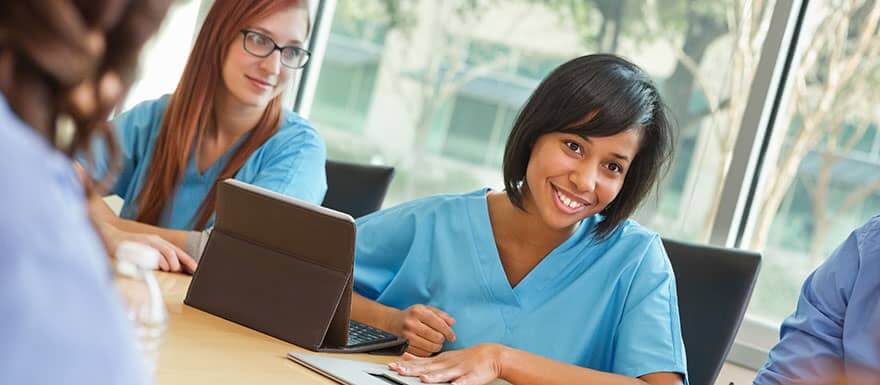 You've decided to become a Medical Assistant, congratulations! You're ready to take the next steps towards your new career. Your first step is to find a good Medical Assistant school. If you are trying to decide on which school to choose, there are several factors you want to consider before you choose a program. Check out a few of these factors below.
Does the Program Teach a Variety of Skills?
A Medical Assistant doesn't just work with patients. They also help to keep a practice running on an administrative level, scheduling appointments, and helping to keep patient records up to date. To prepare students for the job market, a Medical Assistant program should teach both administrative and clinical skills.
The Medical Assistant program at Cambridge Junior College is well-rounded and includes training for both the administrative and clinical skills that you may encounter daily as a Medical Assisting professional.
Does the Program Include Hands-On Experience?
It's not enough to read about the job in a classroom. Therefore, you may want to choose a program that offers both in-class education and hands-on application. Externships provide a safe environment for students to practice classroom learning in a real-world setting. Finding a program that offers the opportunity to complete an externship could help you learn about patient care and what to expect on the job.
During Cambridge's Medical Assistant program, you will receive real-world experience in the form of externships and clinical rotations. You will get first-hand experience and training in the healthcare field, giving you a head-start in a thriving industry.
What is the Program Length?
How quickly would you like to be working the healthcare field? Typically, Medical Assistant training programs take about a year to complete. These programs usually lead to a certificate or diploma. With Cambridge's Medical Assistant program, you could be working in a healthcare career you love in just 10 months*. You'll have the skills and confidence you need to move quickly into a rewarding career.
Will I Receive Job Placement Assistance?
Another factor to consider is the school's Career Services department. Some schools have a Career Services department that may help you get a job after you complete your schooling. They will help you develop resumes, practice interviews, and find places to apply for jobs.
Whether you are a current student or a recent graduate of Cambridge Junior College, you will receive ongoing support from our dedicated Career Services team. We'll work with you one-on-one to make sure you have the resources and support it takes to compete. We are a career-focused school and aim to provide you with enough support to feel well-prepared to enter the workforce upon graduation.
Is a Rewarding Career as a Medical Assistant Right For You? Get More Info…
If you're interested in learning more about careers in Medical Assisting and exploring whether Cambridge Junior College is right for you, fill out the form on this page to receive more information.
For immediate questions, give us a call at 530-674-9199
*Program length when completed in normal time.