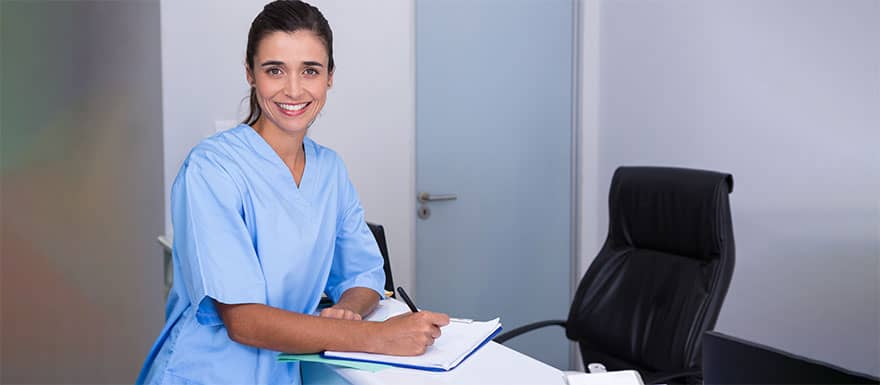 Have you always been interested in starting a career as a Medical Assistant, but aren't sure where to start? A career as a Medical Assistant is extremely rewarding, and you will make a difference in a patient's office visit experience. There are a few steps you must take to start working as a Medical Assistant.
Whether you have always wanted to work in the medical field or have a new passion for medicine, continue reading to learn more about how to pursue a Medical Assistant career in California.
Complete a Medical Assistant Program
If you're interested in attending a Medical Assistant program, you can search the internet for local colleges that specialize in becoming a Medical Assistant. Medical Assistant schools and programs are available in several different educational venues in California, including career colleges, community colleges and vocational schools.
Many Medical Assistant programs only take one year or less of school to complete. This career is great for anyone looking to start a new career in a short amount of time when compared to other medical professions. The length of time you will be in school will depend on the school you choose to attend. At Cambridge Junior College, you can complete our Medical Assistant program in 9 months*, from the first class to graduation.
Complete Work Experience
When choosing a program to enroll in, there are a few things to consider. Take a look at the externship opportunities that will be required of you. Many programs will set you up with a local clinic or medical setting where you will learn in real-life situations. If you know which field you'd like to work in, consider a program that has an externship in that industry so you can gain on-the-job experience for the position you desire.
Cambridge Junior College's Medical Assistant program includes practical, hands-on training so you can hone your skills and techniques, and real-world experience in the form of externships and clinical rotations.
Get Certified
In California, Medical Assistants must meet specific requirements, according to the licensing and regulations set in place by the Medical Practice Act and enforced by the Medical Board of California. Licensure, registration and certification are not required of Medical Assistants in California. However, numerous employers may require Medical Assistants to be certified for insurance, training of other personnel or other purposes.
Approved certifications available include:
Certified Medical Assistant (CMA)
California Certified Medical Assistant (CCMA)
Multiskilled Medical Certification Institute (MMCI)
California Certifying Board of Medical Assistants (CCBMA)
Registered Medical Assistant (RMA)
Medical Assistant (NCMA)
American Association of Medical Assistants (AAMA)
American Medical Technologists (AMT)
There are many benefits to becoming certified, including the possibility for increased job interviews, increased wages, and increased job stability. So if you're thinking about attending a Medical Assistant program, consider obtaining your certification upon completion of your program.
Becoming a Medical Assistant is easier than you might think. Receiving an education from a postsecondary institution and obtaining formal training are 2 steps that enable you to become a successful Medical Assistant. Earning your certification is an added bonus that can set you apart from other candidates.
Is a Rewarding Career as a Medical Assistant Right For You? Get More Info…
If you're interested in learning more about careers in Medical Assisting and exploring whether Cambridge Junior College is right for you, fill out the form on this page to receive more information.
For immediate questions, give us a call at 530-674-9199
*Program length when completed in normal time.